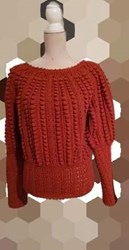 Essy's Golden Sweather 44/46
€
27
,
00
Dit nieuwe patroon is The Golden Sweater van Esther Meijer.
Hij is gehaakt van 9 bollen Colour Crafter
Je kunt hem met col maken zoals de kleur Gold of zonder col zoals de Roest kleur.
Zet in de opmerkingen welke kleur je wilt.
Dit pakket bevat 9 bollen garen en het patroon.
Kies hier -> Colour Crafter je kleuren uit.